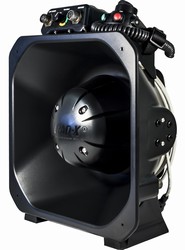 Long range acoustic devices for highly intelligible voice commands broadcasts to crowds up to distance of 3 km and their safe dispersion with strong warning tone up to 160 dB. Sound can be precisely directed in an angle 30°/15°. Mobile use on Tactical Response Vehicles (e.g a new LRAD 450XL).
Creating standoff zones between protesters and police saving their force and significantly reduce the use of other coercive means (water cannon, tear gas, rubber bullets and physical encounter with mobs). LRAD can also be used too in military training ranges, to protect critical infrastructure such as ammunition depots, nuclear power plants (fixed installation remotely operated through Ethernet), military parades, natural and industrial disasters, crowd control (demonstration / riot), negotiation with terrorist and dangerous criminals (sound easily penetrates through cars and into buildings) etc. Use when giving instructions to crowds during missions abroad (supplied with MP3 Player allows user to give voice commands in a foreign language) and to determine ahead of contact the person's intent when is approaching a group of cars or checkpoint.
The smallest LRAD 100X has been demonstrated at the Police Academy in Prague on October 30, 2014. The Czech Police had the LRAD lended for testing during real use with football fans and to control demonstrations in Prague. LRAD fully proved: high performance, sound directing, perfect intelligence of spoken commands over big distances and intensive warning tone.
NEW! LRAD 360X resident early-warning system for cities and municipalities which is the only product in the Czech Republic that provides 360° uniform sound coverage. Loud, highly intelligible communication of voice messages up to 5,3 km2. More systems can cover large areas. Installation and service ensured by the proffesional partner company. For LRAD purchase you can get EU subsidy. For more informations please downlod prospectus below.
Link to the manufacturer pages: www.lradx.com